Friday 24 Apr 2020
The spring semester of 2020 did not start as scheduled, but we are glad that on April 20th, we saw many of our students again.This major epidemic has brought us all together. The efforts of so many heroes fighting the epidemic have enabled us to feel the strong support of the motherland. In the first lesson at school, we were in front of the national flag, to cherish the present, and look to the future.
Our Honorary Principal, Ms. Wang Hailing, gave a message of hope to the students of our school:
Due to the epidemic, the spring semester was delayed. In these two months, the Chinese and expat teachers of our school have overcome difficulties and worked hard to provide students with high quality online learning courses and learning resources, so that students could continue their studies. Online learning tests students' adaptability and self-discipline. Most of the students were able to adapt and participate in the online learning. Some students actively participated in different activities organised by school. Through online learning, we believe that many students have improved their abilities in independent learning, time use and self-discipline.When you return to school, I hope that you cherish more the learning opportunities and the life you have. You should adjust your state of mind, life and study as soon as possible. You need to have clear learning goals and plans, use what you have learned, and prepare for future study. Besides, you should be positive and devoted to study and all kinds of upcoming activities.Finally, I trust that you all stay healthy and hardworking in your studies!
Mr. Bruce Thompson, the Executive Principal of our school, also gave a warm welcome to the returning students:
Good Morning,I am delighted to be able to welcome you back to school. It has been a very long time in which we have all been waiting for the restart. It is great to have you back with us and to be able to welcome you at this ceremony which we are doing online because we cannot yet bring everyone together.I know that you have done a lot of good work online. There has been some positive feedback on that. I would like to take this opportunity to thank the teachers for what they have done helping to keep you going with your work. I hope that you did keep your work going and that you worked hard. And I know that you are going to be very happy to be back and engaging on an everyday basis with your friends with the teachers in the classroom in the academic work, the CCAs and all aspects of what we do here.In his new year speech, your president, the Chinese president, mentioned "seize the day",take every opportunity that is available each day and make sure that you make the best of them. And perhaps in circumstances when things have been very difficult and things have not been so good, you realise that there are lots of good things and that when you have the really positive opportunities which you have  at school you should take advantage of them and make sure that you make the very best of each one. So, enjoy each day. But you are preparing also for the future. Work hard! Make the best of the opportunities you have  now.It is great to have you with us. I hope that you are looking forward to what you are going to do. And I look forward to seeing everything that you will do for the remainder of this semester.

Welcome back!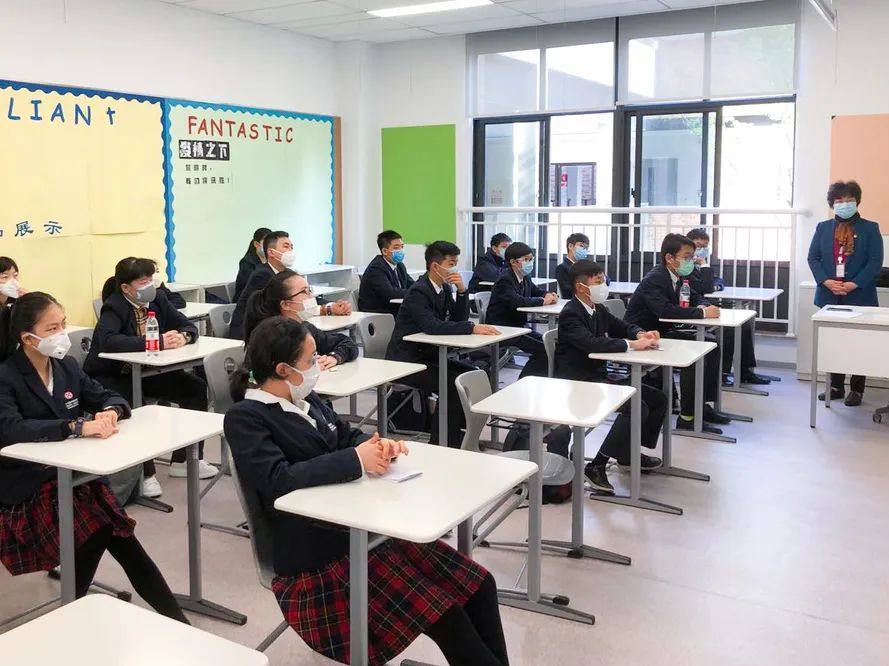 After the speeches, class teachers and tutors played a video for the students, reviewing the whole process of Wuhan from the closure of the city to the lifting of the ban, to help them to understand that the resumption of school was not easy.
At this time, health and safety are the top priorities of school work. To this end, in the first lesson, the students also carefully learned the correct steps for washing their hands, how to behave appropriately when sneezing and coughing, and how to effectively prevent the virus.