With a population of more than 9 million people, Hangzhou is the capital of China's Zhejiang Province and its political, economic and cultural centre. Around 180km from Shanghai, the city is connected by excellent road and rail links.
The city came to prominence as the southern terminus of the Grand Canal, a major trade route connecting north and south China, and has long been one of China's most famous and prosperous cities. In the 13th century, Italian explorer, Marco Polo, famously called Hangzhou "the finest and the noblest [city] in the world" .
A teacher's perspective
So, after a year in Hangzhou I am putting some thoughts down on paper, so to speak, to share my experience with you. Moving to China is a huge decision for anyone whether you are on your own, with your partner or your entire family. A move from the West to the East is, without any doubt, going to be life changing, there will be many peaks and troughs along the way.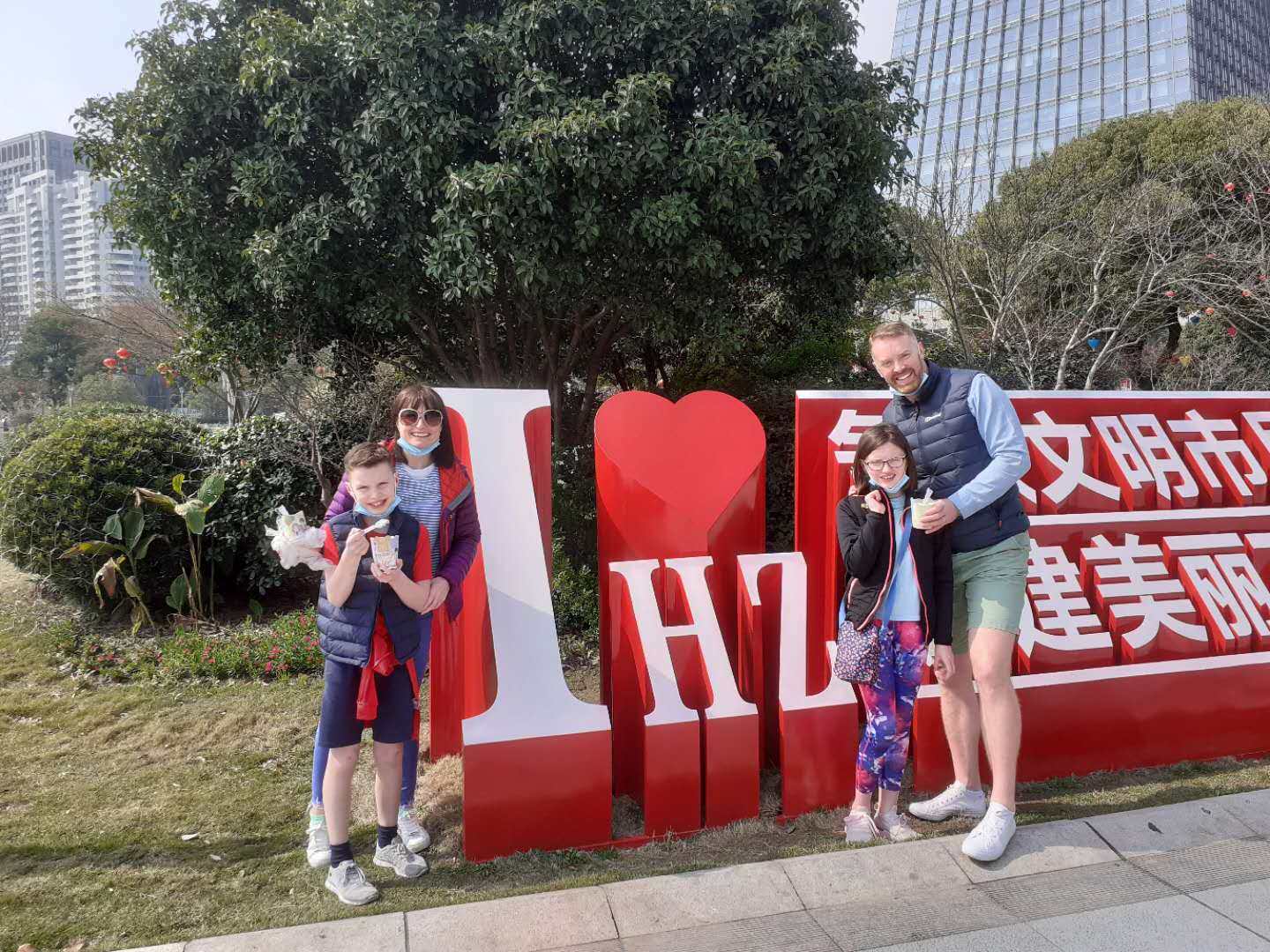 Teaching in any country is a busy job and China is no different. I teach fewer periods here in RDFZ King's than I did in the UK, however lessons do take a lot of planning to ensure everyone is involved in the learning. School is busy, but I think that is one of the best things about being a teacher, the school week goes so quickly as you're so engaged with your students' learning and development milestones!
Monday to Friday's are obviously teaching focused, there is a great gym in school, a running track and a 50m swimming pool which we have access to after school if you need to burn off a few calories. The facilities are great, and it is a super way to wind down at the end of a busy day. Outside of the school week the city becomes your oyster; early morning Tia Chi along the canal, relaxing walks in the many parks, Chinese lessons, cinemas and culinary delights, hiking in the nearby mountains, and much more can be found on your doorstep, or a mere metro stations away.
Driving in China is not like driving in most other countries, you need nerves of steel, and 360 vision! It really is every man for himself. Honestly, when we first arrived I was terrified, but you soon get the hang of it. During our first year we did not have a car and I felt liberated by this. There are a variety of apps which can be used to call a car to take you to your destination. Didi is the Chinese version of Uber- it is a door to door service which allows you to sit back, relax, take in the sights and not worry about the language barrier, plus it's a fraction of the cost you would expect in a typical western city. It is a great way to get to grips with the city and your local district. I love watching their maps and the different routes they take.
This year we have a car, it has given us a great sense of independence- we really enjoy just jumping into the car and going somewhere- anywhere, without having a plan! Having a car is a bonus and fun but it is definitely not a necessity especially as the Metro continues to develop and spread across the city! It is new, super-efficient, cheap and a fun way to get around the city.
Hangzhou is a big city, a huge city in fact, 11 million people! This number astounds me every time I think about it. The city is very spread out, so it does not feel overcrowded at all. There is a huge number of options in terms of entertainment- anything from the movies, to the theatre, to concerts, to local breweries, to nightclubs. If you are new to China KTV is a huge hit! Karaoke style bars with individual bookable rooms, so you only embarrass yourself in front of your own group of friends! Also restaurants, so many restaurants, you will never have to cook again, you could visit a different restaurant every night for the rest of your life!
We came to China with our two children aged 9 and 11. China is incredibly family centered and there are countless classes to which you can enroll your children outside of the school day. The main barrier however is the language. Sports classes are coached in Chinese, Piano lessons are taught in Chinese and Hip-Hop classes are instructed in Chinese. This can be difficult and over whelming for some kids whilst others will just throw themselves into the mix. There is no doubt that the opportunities are there.
There are several districts which house expats in Hangzhou, they are largely centered around school districts. We live in Yuhang which is an expanding district to the West of the city, further away from the city center, but closer to school. With the addition of the Metro, Hangzhou city has become more accessible from Yuhang. The European Financial Centre (EFC) area is home to many expats and its buzzing social scene with restaurants galore, modern gyms and café's make it a really great place to live!
Internet access is always a big question in China. When we first arrived, we found it difficult to navigate and sometimes felt a little "cut off" from life back home, however, in the short time that we have been here things have changed. Social Media is huge in China and WeChat allows you to access not only friends here in China but those at home too. Many people purchase a VPN, a contentious issue, but it does allow you to use social media and WhatsApp to keep in touch at home. Many International Schools have full access to the Global Internet allowing teachers access to everyday teaching and learning resources. I know TV is a little old school for some, but worth a mention. A TV box will give you full access to a range of global TV channels. We can watch anything from Phil and Holly to the Premier League (I think, well, it is definitely football of some description!), to the CBS news from the comfort of our own home.
Taobao is an online shopping platform like Amazon where you access literally anything you want and have it delivered to home or work, I have whiled away many a weekend browsing this platform, it's pretty addictive! The site is in Chinese; however, it does have a brilliant photo function that allows the user to find anything with just one click! Financially though, it could be dangerous! Buying clothes in China can be challenging. The style and the trend are quite unique. You can find your own "style" easily online though. Admittedly, the sizing is small. If you are aware of this and size up, there is no problem. Worldwide brands are sized as you would expect, Zara, H&M, Massimo Dutti, they just don't carry huge amounts of stock in bigger (normal) sizes. There are lots of WeChat groups dedicated to fashion, some super recommendations for sites and sizing for those of us who find shopping a challenge. Two-day delivery to your door is also a winner!
An incentive for many of those considering coming to China is the financial package. The idea of being able to save a percentage of your wage for a rainy day appeals to all of us! You can save money here without a doubt. Eating out is incredibly cheap, especially if you like the local cuisine. Cooking at home is cheap also if you shop local and eat seasonal food. Expenses increase if you constantly seek our Western food, but if you keep it local your day to day expenses are incredibly low! The HR department will help you set up a local bank account, (this is a requirement) then you have the option to transfer funds directly from your salary to an overseas account.
We are a family in China, our school staff are a real blend of people from couples to singles and many family combinations. This blend allows people to form bonds and friendships across age brackets and makes for eclectic nights out!
Eating out here, especially when you first arrive, is an experience! Ordering the unknown, scanning a code on your mobile phone and just looking at the pictures to guess what to eat is, initially, so much fun! But it does become tiresome and we all crave a taste of home! Luckily, China, like almost every country in the world, does have McDonalds, KFC, Burger King and other well-known international restaurants. It is however McDonalds with a twist. Not only can you order an Angus Burger, a McChicken Nugget Meal and a large Coke but you can also get noodles, rice and a host of meat dishes which you do not see in the west. McDonalds is always a hit with us, you cannot beat a McFlurry when it is 38 degrees outside!
History
The city of Hangzhou was founded in the Qin Dynasty (221-206 BC), more than 2,200 years ago, and is recognised as one of the 'Seven Ancient Capitals' of China.
Hangzhou's importance increased extensively when the Sui Dynasty (581-618) built the Grand Canal, which connected the city with Beijing in the north. The creation of the West Lake during the Tang Dynasty (618–907) added to Hangzhou's profile. With a population of more than one million by the 13th century, Hangzhou was considered one of the world's largest cities for quite some time.
Hangzhou today
The epitome of classical beauty in China, West Lake in Hangzhou has inspired generations of writers, painters and poets, and is a major tourist destination. Hangzhou is also famous for its Longjing tea, one of the best-known green teas in China.
Beyond natural beauty, Hangzhou also offers a huge selection of museums, galleries and theatres, showcasing everything from silk making to calligraphy. Modern influences also abound with chic cafes, modern shopping centres and western-style bars and restaurants. Despite these touches of modernity, Hangzhou still offers an authentic China experience.
RDFZ King's College School Hangzhou is located in the western Yuhang district, the city's largest district. It is the birthplace of the early Liangzhu Culture, an important prehistoric site in China. Nowadays, Yuhang is one of the most economically developed regions in China, commanding a GDP of 231 billion RMB in 2018, and designated technology and education centre. The School itself is to located in Future Sci-tech City, home of Alibaba and China's high tech centre.