Sunday 10 May 2020
Can you imagine working like a real artist when you are just a high school student? In our ICC (International Curriculum Centre), you can become a comic artist, sculptor, graphic designer or photographer. 
We began by giving each student a topic, which they developed and then decided which area and style to study, with guidance from the art teacher. Each work created will be unique and show the experience and expression of the student.
The art pieces below are born during the IGCSE and A/S exams finished. The work is developed using four Assessment Objectives: AO1 Record, AO2 Explore, AO3 Develop and AO4 Present. Each AO is worth 25% of the total mark. This system gives insight into how the student developed their outcome, and also produces a final mark. 
Students worked hard while the school was closed, working towards coursework needed for their exams. The school sent materials by courier to support our "artists". The IGCSE having 8 hours and A/S 15 hours working in a purpose-built painting studio. The students have been amazing in completing the work during this time. The COVID-19 also inspired them.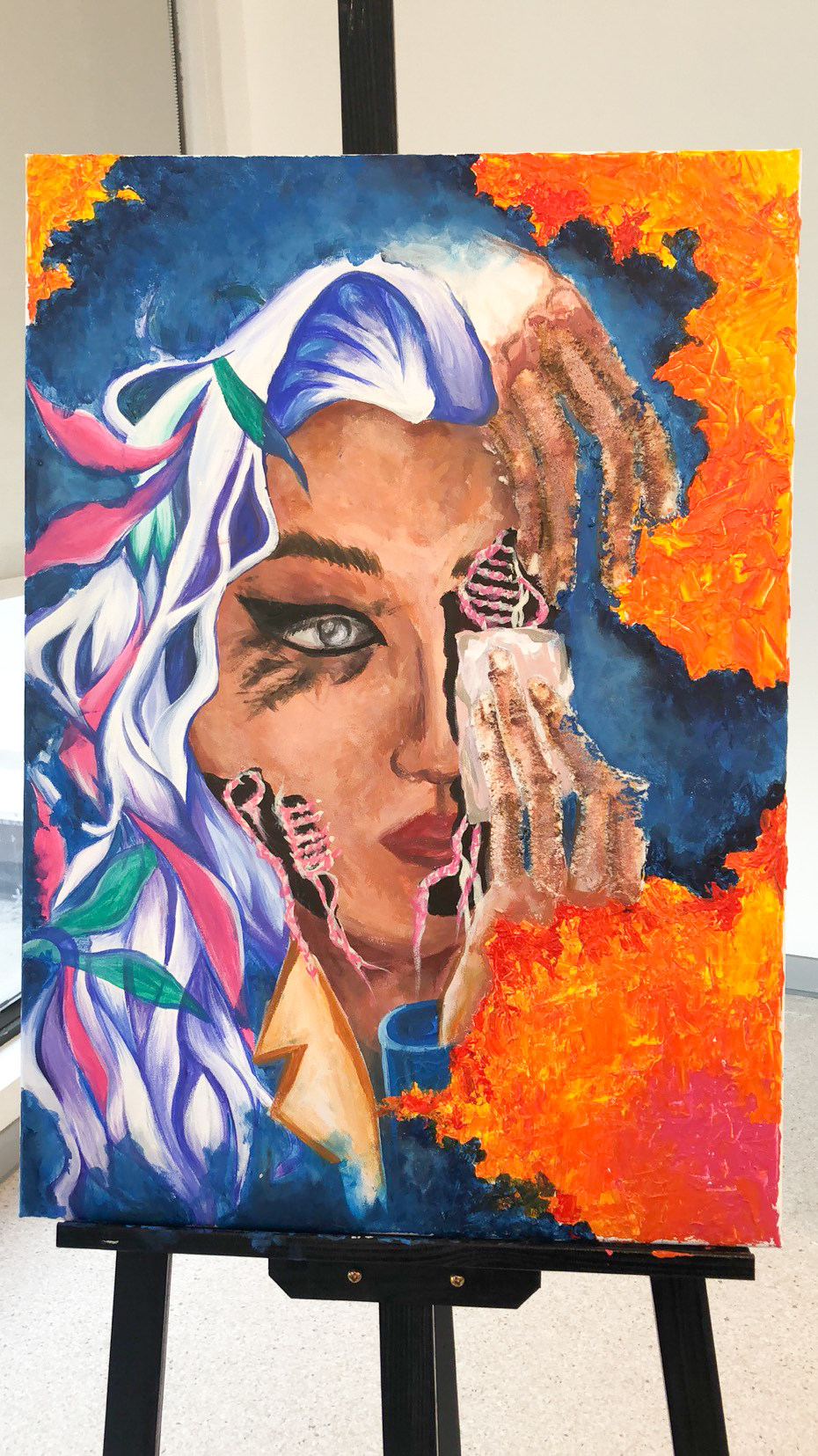 The theme for 11th grade student, Angelia, is "Dismantled". She wishes to express the view that what lies within is more important than appearance by removing the cosmetics which disguises the person's face.
My exam subject is "dismantled". The word made me think of a lot of things, such as chopped apples, a bad sweater cut up, old houses and cuts in an ugly face. After collecting basic materials, I had to look at  artists to learn their painting techniques and colours, and then try different materials to make my own materials more interesting. AO4 is the most difficult part for me. I needed to combine my materials and choose one to draw the final piece. My teacher gave me some suggestions on the combination needed.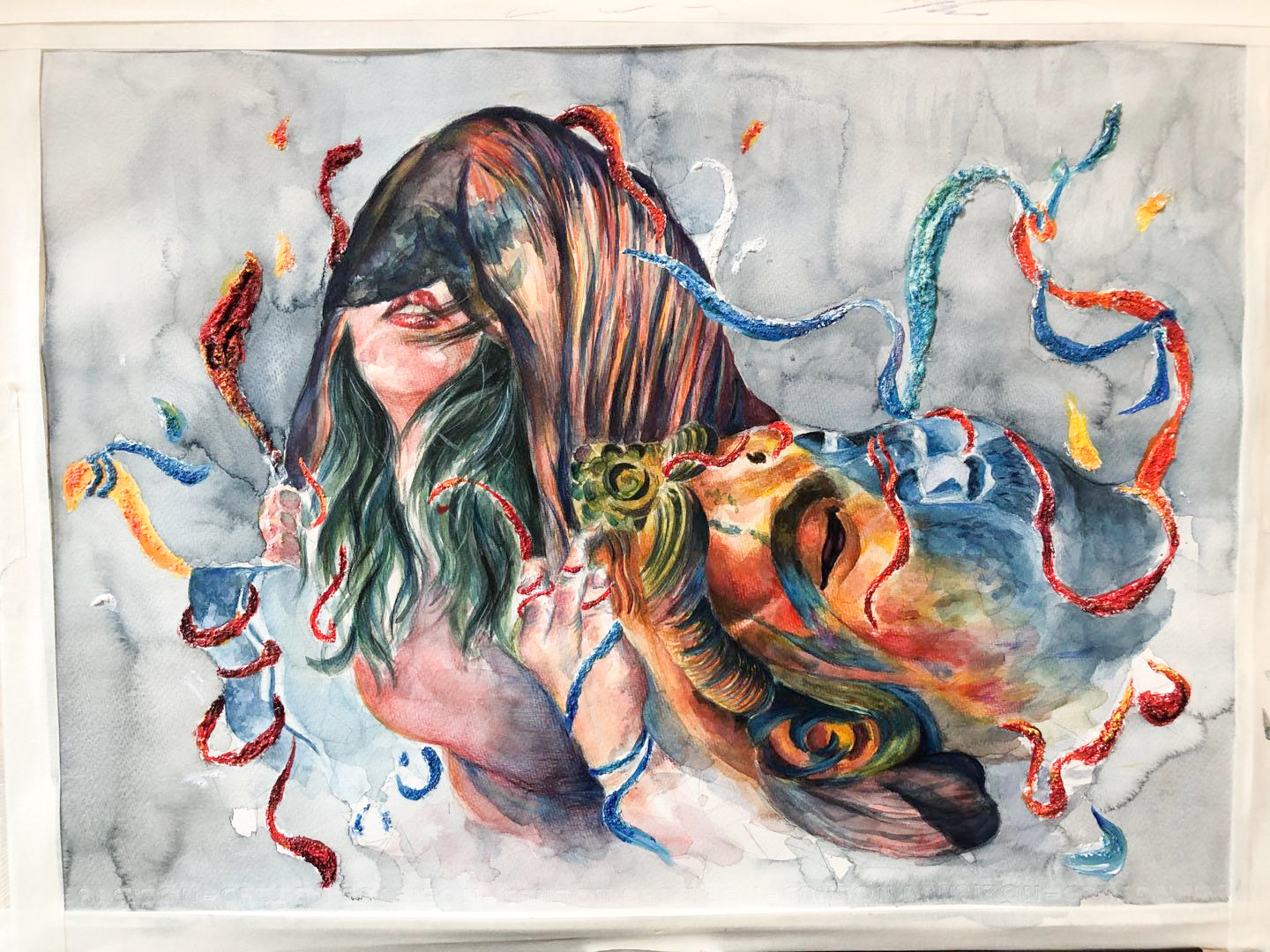 This is Evelyn from Grade 11. She wished to express a desire to break free from tradition and from religion.
The topic I chose for the exam was "In the frame". Initially, I thought that the 'frame' could be either a substantive frame or an ideological frame. Then I thought that some of the factors that restrict people's thought and behaviour. These factors can cover a wide range, from religious dogma, to stereotypical impressions of women in society. Fixed impressions of women's social roles and performance constrain women's creativity and diversity in the workplace and life. There can also be limits which you set on your own abilities professionally and the exploration of the possibilities of new things.

So I developed the theme "In the frame" from three aspects: religion, social impressions of females, and self. In looking at examples of painting styles, I also learned that some artists speak for some topics which are not openly talk about, such as domestic violence and mental illness. Most of their work has not only the excellent colour and shape, but also emotion.

For me, 'frame' is about restriction and repression. Restrictions and repression are not all bad, and in many cases, they also mean self-control, self-discipline and forbearance.

I hope to raise people's awareness of the phenomena that limit our ability and potential to develop, and encourage them to break those limitations and make changes, such as breaking the gender-based ideology for women, stepping out of self-limitation, and trying and challenging ourselves with more new things.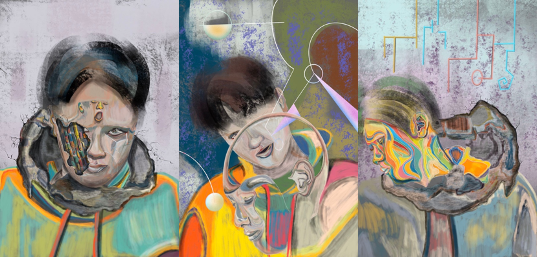 During the A-level exam, Kris kept exploring explored many artists. Finally he found a way of expression with a strong personal style. He is good at board painting, which combines strong color contrast. He created different textures. Very technical and surrealistic.
"Dismantled" is my theme of the exam and  I carried on the investigation and research and positioned my work as the split and eventually getting dissociation. In the production process, I showed the effect of splitting personality by overlapping the expression on a person's face in different directions. And I used some broken wall pieces to show my idea of "split".

I learnt from Danny O'Connor in terms of colour and style. And in the final exam, I slightly modified the overlapping method to achieve better effect.

A lot of elements were added in the details, such as the cracks between the wall and face, the segmentation of the face by the white lines and the shadows. In this exam, I gradually found a style I am good at and the ability to combine various things.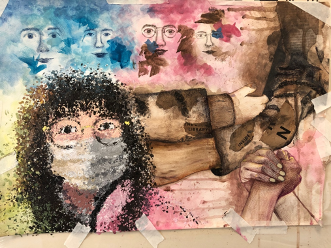 G11 Sherry is a gentle and sensitive student. She has good sketching skills and she is good at handling details. Her works are rich in layers and well-regulated in rhythm. During the exam, she studied the combination of different materials and watercolors.
My chosen subject is "Gathering". The outbreak of the COVID-19 during Spring Festival broke our gathering.  Even though we are isolated, our hearts were always together, so I drew four faces in the upper left. The four people are my family and I. I imitated the painting style of the artist Lionel Smit. I painted the background with watercolour and then painted the head with dark lead.

Wearing a mask is being responsible for yourself and others, and also means together to fight. So I pianted myself wearing the mask. And I imitate the style of the artist Christopher Howard. Bright colours represent happiness and confidence. On the right, two arms represent solidarity and mutual help. I pasted old newspapers and textured paper, dyed them, and used a black marker to deepen the shadow contrast of the wrinkles of the clothes. In the lower right corner, I drew two hands, which also represent our gathering. I wanted to paint the whole thing in watercolour, but this did not work very well, so I added colour lead to give detail.
Characteristics of Our Art and Design Courses
Bilingual Teaching
The art and design curriculum is taught in a bilingual way to enable students to develop their understanding, sensitivity and creativity in a relaxed environment in their native language, and to interpret their works in English to improve their language skills.
Combination of eastern and western cultural elements
Through  the study of art theories and under the guidance of teachers, students experience and think deeply about Chinese culture and the eastern culture with which they are familiar. They then combine this with western art elements, so as to find a unique route in their art.
Customising for Uniqueness
Each student has different interests and artistic foundations. Their Art teacher will use different teaching methods, to understand each of the students' approach, to see the perspective of each student and to understand their ideas and creativity. They will offer personal support, so that the students can operate in a safe environment and maximise their potential.
Rich materials, diverse forms
Students can create their works with a variety of materials, such as acrylic, watercolour, welding machine wire, plaster bandage, using a 3D printer, graphic design, professional camera, fashion and textile design and other areas.