Sunday 26 Apr 2020
Our Grades 1 and 2 International School pupils are learning to use the "Xinhua Dictionary" as this is an important learning tool. Learning how to use the "Xinhua Dictionary" is a great help for their future study.

We teach them how to use a dictionary and using the dictionary to read Chinese books in the original text alongside some back up reading. Looking words up in the dictionary is an important learning habit.
The old saying, "Teaching them how to fish is better than giving them a fish", shows that, by learning the phonetic sequence word searching method ( the method of searching characters in the order of Chinese pinyin letters), students will know how to learn new characters by themselves.

This supports independent reading in the future by laying a foundation.
Children learn through the evolution of the "贝" word from oracle to regular script , and understand the shell as a currency once represented in Chinese characters.
It is important to help students to understand that the radical (a part of the character) "贝", contains the meaning of fortune, which is named "radical speculation". Mastering radical speculation about the meaning of Chinese characters is an important part of literacy.  This helps them to get to know more Chinese characters as well as supporting their interest in learning Chinese characters.

In addition to learning about the evolution of "贝", students have also learned more about the characteristics of Chinese characters by completing guessing exercises on other pictographic characters.
What do we teach in Chinese classes?
There are two main groups of students in our international school. One are native Chinese speakers, the other group are non-native Chinese speakers.
We have different teaching systems for these groups.
For native Chinese speakers, we use Chinese national curriculum and its text books. We follow their learning progress in order to give students a systematic Chinese learning course. Our goal is to help our students to build a strong and firm Chinese basic knowledge preparing for further and higher level of Chinese learning in the future. We teach basic characters and phrases, reading and writing. We encourage students to read books every week, and in each unit we write a composition.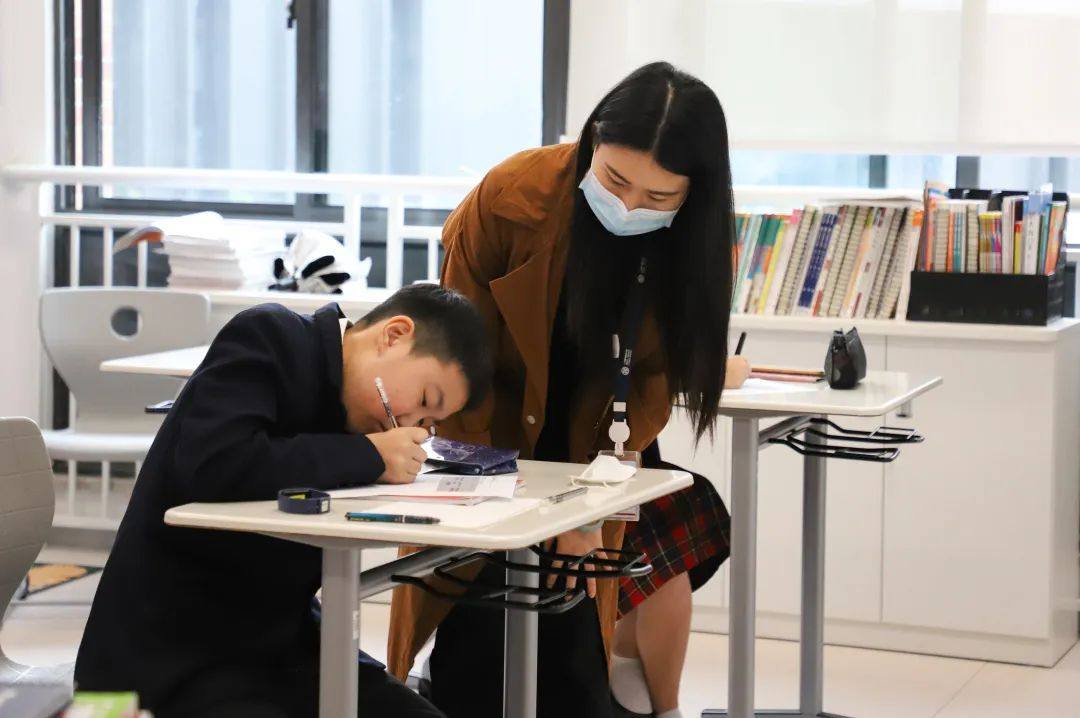 For the non-native Chinese speakers, we use <Easy Steps to Chinese> as our basic text book. Students will learn different practical topics at different levels. Our goal is to build their interest, confidence and sense of achievement when learning Chinese. So in our teaching we use different fun ways to help them to learn Chinese, such as songs, role-plays, games, activities (TPR, flash cards), surveys, debates, and cultural celebrations……For example in the period of Chinese New Year, we learn stories and traditions, write Spring couplets with calligraphy, and make paper cuts……The environment is our third teacher. Luckily we have a lot of Chinese students in our bilingual school, who supply our international students with the opportunity to hear and use Chinese. We encourage pupils to use Chinese as much as they can in daily life.
Throughout our Chinese lessons, we help students to develop their critical thinking skills and inquiry ability. We encourage them to be openminded and to try to think with different perspectives. Learning is a journey of enquiry, where the student is the centre, and teacher a guide. During this journey, we develop students' skills of self study and cooperation.
When we assess their learning, we do not just look at results, but also at their learning process. We use work attitude, projects(Projected-Based Learning) and class test results as regular assessment with mid-term and end of term paper tests as formal assessment.