Friday 16 Aug 2019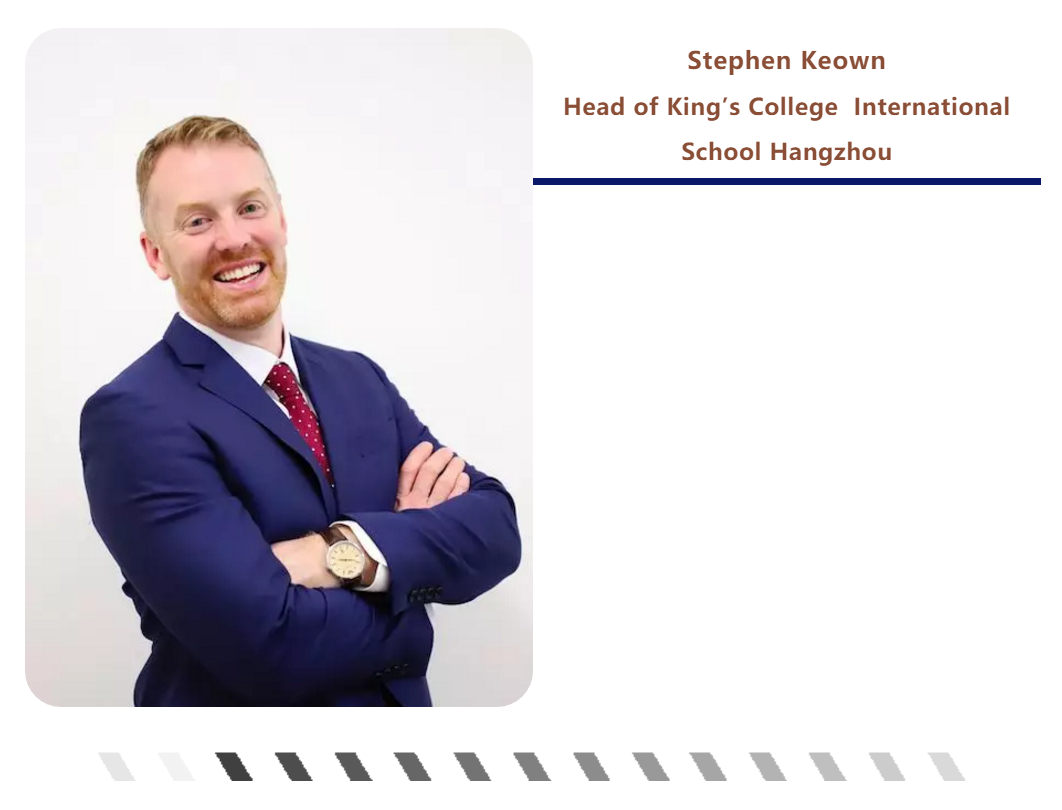 Stephen Keown is from Ireland and the Head of King's College International School Hangzhou. He has worked in education for over twenty years, spending ten years as a senior leader. He was formerly the Vice Principal at St Mary's College, Derry.
He holds a Master's Degree in Education from the Queen's University Belfast, a Master's Degree in Computing from the University of Ulster and a Master's Degree in Educational Leadership from St Mary's University College Twickenham as well as additional professional qualifications in school leadership and business.
His educational philosophy helps empower young people to fulfill their potential, lead rewarding lives and contribute strongly to the improvement of society.  He believes that to truly unlock the potential of every pupil they must be happy.
Interview:
Q: Could you tell us a bit about yourself?

A: I am from Northern Ireland and am married with two children.  My wife teaches English at RDFZ King's College School Hangzhou and I am also very proud that my two children attend the school. I have been in education for 20 years and school leadership positions for over 10 years.

Q: What are your hobbies?

A: I love all sports and have played many sports from a very young age to competitive levels.  I have completed five Ironman triathlons!

Q: Is this your first time in China? How do you feel about it?

A: This is my first time in China. I have been made to feel very welcome and believe it is a country of great history and culture, with strong progress and future prosperity.

Q: How do you like Hangzhou?

A: As I am so new to Hangzhou, much of the city is still be enjoyed. People in Hangzhou are so so friendly and have really helped when language has proved difficult for me and my family. I am proud of Kings College International School Hangzhou and contributing to the growth of Hangzhou to create many leaders of the future.

Q: What qualities does a great principal need in your opinion?

A: A principal must have vision and be able to make that vision a reality. They must lead by example and support pupils and staff whilst prioritising the key actions for improvement.

Q: How did you start your career in education? And what brought you to King's College School Hangzhou?

A: I have been in education for over twenty years. I entered education to help young people achieve successful and fulfilling lives. King's College International School Hangzhou was an opportunity to enable young people to be academically successful and globally confident.

Q: What are the most important things a school needs to educate its students?

A: A school must fully know and understand the individual pupil. The school must support and guide the needs of the individual pupil to achieve the very best they are capable of. The school should have the expertise and expectation of excellence to underpin success for all pupils.

Q: As a school, where are we now and where we are going?

A: Building on the proud history and tradition of King's College School, Wimbledon, King's College International School Hangzhou has very quickly established a strong reputation for excellent academic delivery and achievement. This is complemented by an outstanding programme of development in the arts, sport and service of others.  King's College International School Hangzhou will ensure its pupils take their places as future global leaders and to fully realise the true potential of every pupil. I am very excited to join all students, parents and staff on this journey together in the time ahead.