Friday 5 Jan 2018
Q: You were working in the United Kingdom, where you were head of your last school for 17 years. What attracted you to work in China?
I stayed at Strathallan School for a long period for several reasons. I saw developing the school as a long-term project and we spent around £20 million on improvements, gradually, in order to develop a quality product. I am very proud of our increased success academically and in a range of sports, drama, music and academic pursuits. Having achieved this, I was looking for a new challenge in a different environment but still within education. The opportunity to lead the foundation of a new school in a vibrant, different and highly successful country fulfilled these criteria. I have always very much enjoyed experiencing different cultures.
Q: You had great success at your last school in raising student achievement. What do you believe is central to this success and how will you use your previous experience in this new position?
I believe that two things are central to this success. The first is creating a culture of expectation, supporting and celebrating success in all areas. The second is recruiting staff who embrace and build on this culture. Staff were employed with specific projects in mind but other areas were suggested by existing staff who were given full backing to develop areas of interest and enthusiasm. One crucial element is providing the variety of opportunities that enables a wider variety of pupils to achieve at a high level. I think our record was national success in 25 different academic areas, sports and expressive arts and I am as proud of the range as I am of the level of achievement. This philosophy, building on the capabilities of individual staff and pupils, is one which I will bring to my new position.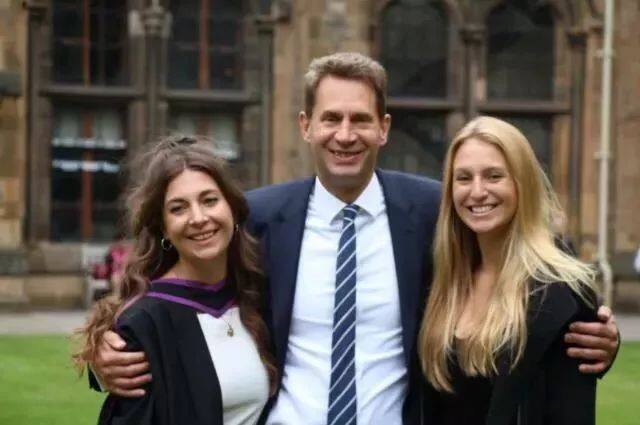 Bruce and his two daughters
Q3: You have wide interests, such as reading, rowing and music. Can you please tell us a little about your hobbies and your life in China?
I took up rowing at university and have never stopped the training which went with that. So weights and a rowing ergometer feature in my training almost every day. That has continued here, as has the extensive reading and listening to music. The one thing I really miss is watching rugby and I have not ventured out on a bike in Shanghai. There is, of course, a lake by the school and apparently rugby here is growing. In fact, I have just been asked to contribute to a group promoting its growth in China. And, I suspect that trying to learn Chinese will take up any remaining spare time!